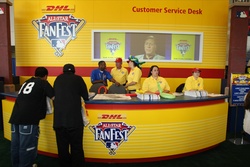 PLANTATION, Fla. (PRWEB) April 30, 2008
    DHL's presence during DHL All-Star FanFest, which will be held July 11-15 at the Jacob K. Javits Convention Center in New York, will extend to the show floor with the DHL Customer Service Desk, the DHL Shipping Center, DHL Presents Major League Baseball Hometown Heroes exhibit and DHL's own Bullpen Attraction. The 2008 All-Star Game(R), popularly known as the 79th Midsummer Classic(R), will be played at Yankee Stadium, where the New York Yankees are celebrating their final home season before moving to their new stadium in 2009. This season, DHL has alliances with eight Major League Baseball Clubs, including the New York Yankees, Cincinnati Reds, Boston Red Sox, New York Mets, Los Angeles Dodgers, San Francisco Giants, Atlanta Braves and Cleveland Indians.
"Our ongoing partnership with Major League Baseball has successfully extended the DHL brand both nationally and on a local level, and keeps getting stronger," said Karen M. Jones, Senior Vice President, Corporate Marketing & Communications at DHL Express. "We look forward to working with all of our partners this season in delivering unique programs and events that showcase DHL's relationship with Major League Baseball, while bringing our customers, employees and fans closer to the game."
"DHL has been an exceptional marketing partner for Major League Baseball, and we are pleased that the relationship continues to strengthen, expand and mature," said John Brody, Senior Vice President, Corporate Sales and Marketing, Major League Baseball. "DHL has helped make DHL All-Star FanFest an even more exciting fan experience, and we are looking forward to the greatest event in our history as part of the 2008 All-Star Summer in New York."
This season, DHL and MLB.com have launched a dedicated microsite at MLB.com/dhl where fans can access news and information on DHL's sponsorship activities and programs for Major League Baseball.
"We look forward to utilizing a dynamic platform to engage fans in the exciting activities of the DHL partnership," said Noah Garden, Executive Vice President, Commerce and Sponsorship, MLB.com. "Online voting for the DHL Delivery Man of the Year award at MLB.com has grown exponentially each year, and we are proud to provide baseball fans with a voice for this prestigious award."
Featured and tracked on MLB.com throughout the season, the "DHL Presents the Major League Baseball Delivery Man of the Month" and "DHL Presents the Major League Baseball Delivery Man of the Year" awards recognize the most outstanding performance by a relief pitcher. The "DHL Delivery Man of the Month" winner will be selected by a special four-member Major League Baseball "yellow ribbon" panel each month. At the end of the regular season, fans will vote online at MLB.com for their top pick from a list of 10 finalists who are selected based on statistical qualifiers to be honored with the "DHL Presents the Major League Baseball Delivery Man of the Year Award." Past winners of the annual award include Jonathan Papelbon of the Boston Red Sox in 2007 and Mariano Rivera of the New York Yankees in 2006 and 2005.
About DHL
DHL is the global market leader of the international express and logistics industry, specializing in providing innovative and customized solutions from a single source. DHL offers expertise in express, air and ocean freight, overland transport, contract logistic solutions as well as international mail services, combined with worldwide coverage and an in-depth understanding of local markets. DHL's international network links more than 225 countries and territories worldwide. Some 300,000 employees, including more than 40,000 employees in the U.S., are dedicated to providing fast and reliable services that exceed customers' expectations. Founded in San Francisco in 1969, DHL is a Deutsche Post World Net brand. The group generated revenues of more than 63 billion euros (more than $ 93 billion) in 2007.
About Major League Baseball Properties
The Major League Baseball Clubs formed Major League Baseball Properties (MLBP) in 1966 as the Club's agent for marketing and trademark licensing and protection. Major League Baseball Properties is responsible for managing consumer licensing activities, developing national advertising campaigns, cultivating sponsorship opportunities with major consumer brands and corporations, growing the game and the business of baseball outside the United States and creating national marketing programs in conjunction with Clubs, broadcast rightsholders and national sponsors. MLBP also operates a full-service video and audio production unit (Major League Baseball Productions), a publishing division and stock photo licensing agency, and manages logistics for the All-Star Game and World Series as well as all other special events. For more information on Major League Baseball, log on to www.MLB.com.
About Major League Baseball Advanced Media
Established in June 2000 following a unanimous vote by the 30 Major League Baseball club owners to centralize all of Baseball's Internet operations, MLB Advanced Media LP (MLBAM) is the interactive media and Internet company of Major League Baseball. MLBAM manages the official league site, www.MLB.com, and each of the 30 individual Club sites to create the most comprehensive Major League Baseball resource on the Internet. MLB.com offers fans the most complete baseball information on the web, including up-to-date statistics, game summaries, extensive historical information, and exclusive features about Major League Baseball events and programs, including on-line ticket sales, baseball merchandise, authenticated memorabilia and collectibles, fantasy games, live and archived radio broadcasts of every game, live and archived video webcasts of entire games, pitch-by-pitch enactment of games, and hosted post-game video highlight shows. MLB.com offered more live events on the Internet than any other website in the world.