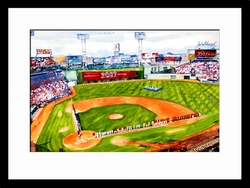 Boston, MA (PRWEB) April 1, 2009
Nationally-recognized sports artist Mark Waitkus has officially announced the sale of 18 original pieces of art from his popular portfolio, including scenes of the Boston Red Sox, Detroit Tigers, New York Yankees, and St. Louis Cardinals. A hit with sports professionals, fans, and art aficionados, Waitkus captures exciting moments in sports history with vivid color and expressive detail.
This is the first time Waitkus has offered his original artwork to a global audience, and intends to offer original paintings from time to time on his website (http://www.markwaitkus.com). The paintings range in price from $ 650.00 to $ 5,000.00. All of Waitkus' original work is framed at point of purchase using the highest-quality conservation materials, including acid-free mats, UV glass, acid-free backing, and hardwood frames. The artwork is for private use only.
Widely considered one of the greatest sports artists in the United States, Waitkus is expanding his roster of Major League Baseball teams he plans to paint in 2009. He also intends to cast a wider net across a spectrum of other sports, including some exciting images for the NBA, NFL, NCAA, The Boston Marathon, and NASCAR.
All reproductions in the Waitkus portfolio are competitively priced at $ 35.00 for an unframed print, $ 150.00 for a professionally framed print. Reproduction prints hang in the lobby of Major League Baseball, in luxury suites at Fenway Park, and in thousands of homes and offices across the United States.
For more information on Waitkus Studios, please visit http://www.markwaitkus.com.
About Mark Waitkus

Mark Waitkus is a professional watercolor artist from Boston, MA. His work has earned accolades from numerous clients, including Major League Baseball and scores of legendary athletes. Waitkus is available for commission and corporate sponsorship projects.
Contact Information:

Mark Waitkus

508.835.8810

http://www.markwaitkus.com
###