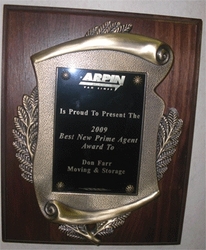 Pittsburgh, PA (PRWEB) November 10, 2009
Don Farr Moving and Storage was a big winner this year at the Arpin Van Lines annual convention and awards ceremony, bringing home five awards. The 2009 Arpin Van Lines Convention was held at the Camelback Inn Resort in Scottsdale, AZ, and was the first one that Don Farr Moving & Storage attended, having joined the Arpin family within the last year.
Don Farr Moving and Storage took home the following awards: Best New Prime Agent, the Gold Quality Award, Greatest COD Sales Booker (in "A" market), the Million Dollar Hauler Award, and the Million Dollar Booker Award.
"After having been an independent mover for so long, it was really great to see how we rank among our peers," noted Dave Fix, co-owner of Don Farr Moving and Storage. "For me, winning the Best New Prime Agent Award was the best because you only get one shot at that award." Mr. Fix also noted that the Gold Quality Award was the most meaningful for the company, because keeping their claims, safety, relations, and customer service at an A rating as a new agent was a huge success.
Since winning the Greatest COD Sales Award, the company is looking to expand beyond their current success in the COD market by branching out into military moving and National Accounts. According to co-owner David Fix, "Since winning the award of Greatest COD Sales, we hope to continue to network with the various Arpin agents and increase the success we have had in the COD market, as well as in other lines of business."
Conrad Swanson, Senior Vice President of Agency Development for Arpin Van Lines stated, "Don Farr Moving & Storage has been an excellent addition to Arpin's network of quality agents." He added, "They were able to 'hit the ground running' and have quickly become major contributors to Arpin's success and the success of our agency family."
About Don Farr Moving & Storage

Don Farr Moving & Storage has been a part of the Pittsburgh community since 1982. The company has been owned, operated, and managed by the Fix family for 27 years. Don Farr Moving & Storage currently employs over 175 people, has two separate locations, and are the preferred movers of the Pirates, Penguins, and Steelers organizations.
Whether you are moving to pittsburgh or across the country, trust Don Farr Moving & Storage. We will provide you with the excellent service and support that has made us Pittsburgh's preferred mover for over 20 years. Our movers are available seven days a week, and our toll free number is open 24 hours a day, seven days a week. Please visit our website for a free estimate at www.donfarrmoving.com
###