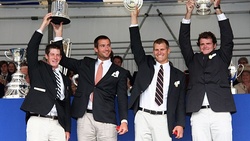 OAKLAND, Calif. (PRWEB) July 9, 2008
The CRC's Donny Simkin and Gabriel Winkler performed well in the opening races of the Double Sculls Challenge Cup, beating the competing Spanish boat by 4 ¼ lengths. CRC athletes Wes Piermarini and Elliot Hovey did well in the early races and then captured a 1 ¼ length lead in the finals on Sunday, beating their American opponents. Piermarini and Elliot are among the three CRC athletes who will represent the United States in the 2008 Olympic Games in Beijing, China in August.
CRC athletes Michael Holbrook, Andy Liverman, Will Miller, and Pat Sullivan beat the Leander Club and London Rowing Club by 1 ¼ lengths in the quadruple sculls for the Prince of Wales Challenge Cup. "The quality of competitors, the tradition and the throngs of rowing enthusiasts make the Henley Royal Regatta unique in the world," said Rich Hallock, executive director of the California Rowing Club. "The CRC's debut at Henley is successful and the experience is good for our athletes as they prepare for the World Championships and the Olympic Games in the coming weeks."
Established in 1839, the Henley Royal Regatta is the oldest continually held rowing event in the world. It has its own set of rules and is characterized by a competition style that races two boats at a time, side-by-side on the narrow river. Rowing clubs and schools from all over the world arrive at Henley-on-Thames each year to compete in the regatta's 19 rowing events.
About the CRC
Located in Oakland, Calif., the California Rowing Club (CRC) is a training center for elite-level rowers who compete at World Cup, World Championship, and Olympic levels. The CRC works closely with other rowing organizations, including USRowing and the US National Rowing Team. The CRC works to augment the national system and support the participation and success of US athletes in the highest levels of domestic and international competition. www.CaliforniaRowingClub.org
For more information, please contact Rich Hallock, executive director, CFO directly at tel: (510) 899-7906 or e-mail: Rich.Hallock@CaliforniaRowingClub.org
High-resolution, digital photos are available on request.
MULTIMEDIA GALLERY http://www.businesswire.com/cgi-bin/mmg.cgi?eid=5727663
Related Oakland Athletics Press Releases