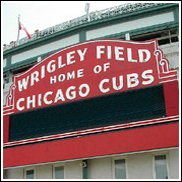 Chicago, IL (PRWEB) April 3, 2007
Vacations By Rail, a Chicago-based specialty travel company selling independent traveler and group train tours and vacations, enhanced its successful "Rails to Wrigley" vacation package. Vacations by Rail first piloted the "Rails to Wrigley" package in 2006 with limited game and seat selection.
Building on the success of the 2006 "Rails to Wrigley" pilot program, Vacations by Rail expanded its Chicago Cubs packages by offering travelers access to more games with better seating, including box seats just a few rows back from the field. Customers can customize the package to ensure they get the most out of their Chicago experience. The base package includes two nights hotel, two tickets to a Chicago Cubs baseball game and a Chicago Transit Authority (CTA) Visitor's pass, allowing travelers to take Chicago's "L" train right to Wrigley Field.
"Due to the overwhelming success of the pilot program, it only made sense to expand the available games and seat selections. People recognize that this package offers a great opportunity to venture into the richness of Chicago's neighborhoods and experience the "The Friendly Confines of Wrigley Field" by Chicago's unique "L" train," said Todd Powell, President of Vacations By Rail. More information is available at www.vacationsbyrail.com or by calling 1-877-929-7245.
About Vacations By Rail:

Vacations By Rail is the trusted authority on rail vacations. Vacations By Rail customers and website visitors can choose from the largest selection of independent rail vacations, escorted rail tours and luxury rail journeys in North America, Europe and Beyond. Customers of Vacations By Rail may also book European Rail Passes and Point to Point tickets online.
Vacations By Rail is located in Chicago, Illinois and more information is available by emailing or calling 1-877-929-7245.
###