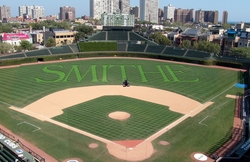 Chicago, IL (PRWEB) April 11, 2009
As baseball fever begins anew, Walter E. Smithe Furniture has finalized its fourth season of marketing partnerships with its hometown favorite, the Chicago Cubs.
Under the arrangement, Smithe Furniture's signature, sometimes wacky TV commercials with brothers Walter, Tim and Mark, will be aired on screens throughout Wrigley Field, and will be accompanied by corporate signage.
To coincide with opening day, the company – which attracted national attention for a 2006 April Fools prank announcing its supposed purchase of Wrigley Field – is relaunching its newest Cubs-themed TV spot.
Done in music video style to 7th Heaven's "This Summer's Gonna Last Forever," the footage showcases the Smithe brothers' lifelong devotion to the team. Filmed at Wrigley Field in 2008, they throw a ball, run bases, and even enjoy a celebratory "bump." Wearing Cubs hats, they munch on peanuts, do a little singing, drumming and piano playing. Then, through the magic of digital editing, they engrave a Walter E. Smithe Furniture logo in the Friendly Confines outfield.
While the Smithes are known for promising customers "you dream it, we build it," they realize that baseball, unfortunately, isn't a sure thing. As such, they end the spot by reminding Cubs fans that "you've dreamed it for 100 years."
The commercial also includes appearances by Chicago baseball legends Ernie Banks and Billy Williams, who previously starred in Smithe's "Field of Dreams" TV ad.
Smithe's Chicago Cubs ad can be viewed at www.smithe.com, along with the company's other commercials.
About Walter E. Smithe

Walter E. Smithe is a four-generation, family owned and operated furniture retailer that originated in 1945 on Chicago's northwest side. Today, from its Itasca, Ill., headquarters, it operates 13 showrooms throughout Chicagoland and northwest Indiana. The company's "you dream it, we build it" approach allows consumers to customize their furniture purchases with thousands of different upholstery fabrics and leathers, and a variety of special treatments. Design services from more than 300 company designers are included with every purchase.
# # #
Find More Chicago Cubs Press Releases