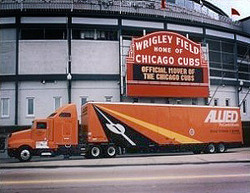 Chicago, Illinois (PRWEB) March 17, 2009
Chicagoland residents caught the first glimpse of spring when crews from Reebie Storage and Moving showed up at Wrigley Field in mid-February to pack up the Chicago Cubs' equipment and personal gear in preparation for the team's annual migration to their spring training camp in Mesa, Arizona.
Reebie, a Chicago mover based agent of Allied Van Lines, is the Cubs' official mover. The domestic and international relocation company has been shuttling the team back and forth to their spring camp each year since 1997.
This year the coveted job of moving the Cubbies to their 2009 Cactus League digs at Hohokam Stadium went to industry veteran and Master Mover Marek Stachowiak. "Marek's consistently high-quality driver ratings earned him the honor of moving the team south and getting them set up in time for their first game against the Dodgers on February 25th."
The Cubs and Reebie Storage & Moving have a long-standing professional relationship. Both were founded in the late 1800s in the city's Lincoln Park area, and both have a rich history of serving the citizens of Chicago.
As Chicago movers for more than 100 years, Reebie Storage & Moving Company has been serving the Chicagoland area with full-service transportation and storage services. Reebie is trusted by Chicagoland residents for all their relocation needs based on Reebie's outstanding reputation as reliable Chicago movers with a commitment to quality not seen by other moving companies. Reebie is renowned for the highest quality residential and commercial moving and storage services, ranging from domestic and international household relocations to superior records management and storage.
Reebie Storage & Moving Company opened its doors in 1880 and continues to provide the entire Chicagoland area with comprehensive transportation and storage services. Visit ReebieAllied.com for more information about their capabilities as Chicago movers.
# # #