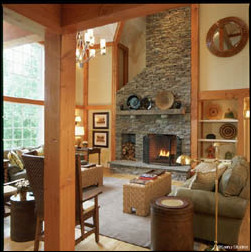 West Chester, PA (PRWEB) May 12, 2005
To accommodate the growing popularity of barn-style home architecture for shore homes and country homes across New Jersey, Pennsylvania, Delaware, Maryland and Virginia, Yankee Barn Homes has expanded their open house program at their West Chester, PA model custom home to include overnight stays and regular weekend daytime hours.
The overnight stay program allows people to 'test drive' a Yankee Barn Home and experience first-hand how to combine traditional American barn home architecture with modern home conveniences. The overnight program has been a very popular and positive experience for individuals considering designing and building their own new custom post and beam home.
"We chose the Brandywine Valley because of its central location," says Tony Hanslin, CEO of Yankee Barn Homes. "It is within a comfortable driving distance from the Jersey Shore and the eastern shores of Maryland, as well as from points in New York and Virginia."
Upon arrival to Brandywine model barn home, guests make themselves at home, enjoy a complimentary bottle of wine, stroll the grounds and settle in for the evening. The next morning a Yankee Barn Home designer meets with the guests in a completely relaxed, unpressured setting to discuss designs, floor plans and barn-style home architecture.
The overnight program is open to individuals thinking about or actively planning to build a new custom post and beam home. Reservations can be made at the Yankee Barn Homes website or by calling 1-800-258-9786.
The Brandywine model home is also open for day visitors. Regular open house visiting hours are Sunday from 1-4 pm, or by appointment at any other times. For daytime visitors who pre-register at their website, Yankee Barn Homes will pack a picnic lunch or late afternoon snack for the drive back home.
About Yankee Barn Homes
Since 1969, Yankee Barn Homes has been designing and building custom post and beam homes. Across the country, over a thousand Yankee Barns stand with no two exactly alike. Each Yankee Barn starts with the vision of the homeowner and is custom-designed and hand-crafted one at a time to be a home of distinction.
# # #