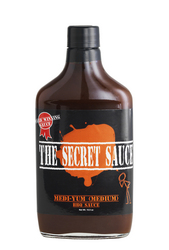 Kansas City, KS (PRWEB) August 23, 2010
A group oflocal guys are putting a fresh face to one of Kansas City's oldest and most famous pastimes – barbecue. RJ Pahura, along with his wife Jaclyn, and brother Michael, have founded The Secret Sauce Barbecue Company, which offers a line of award-winning, all-natural, gluten-free barbecue sauces that aim to bring national attention to the rich history of Kansas City barbecue. The product is simply named, The Secret Sauce.
The company officially formed after taking a top award at The American Royal Barbecue Contest in October of 2009 in the "specialty sauce" category. They have since teamed up with KC native's former Kansas City Chiefs player Joe Perez (PR guru) and Blake Miller (design genius) to expand The Secret Sauce.
After just seven months of operation, their products can be found on the shelves of over 200 grocery stores

nationwide including Ball Foods, Dean & Deluca, Hy-Vee and Whole Foods with the strongest concentration right here in Kansas City. In fact, The Secret Sauce is going to be featured at one of downtown Kansas City's fastest-growing destinations, The Power and Light District.
The Secret Sauce Barbecue Company is taking a "hands-on" approach to spreading their message. To kick offthe Kansas City Royals baseball season, The Secret Sauce Barbeque Company hosted a tailgate party and cooked for nearly 1,000 fans.
In June, the company was awarded Reserve Grand Champion at "The Fire in the Hole" Barbecue Contest held in Lawrence, Kansas after taking top awards in several categories. Recently, The Secret Sauce was also the top seller at a taste competition held in Chicago. As they win one award after another, this barbecue company seems unstoppable and surely aims to make Kansas City proud.
The Secret Sauce Barbecue Company hosts a "Facebook" page to reach out to audiences of all ages. Fans get updates on upcoming events, recipes, special purchase offers, contest victories, and other company information. Additionally, fans can offer personal testimonials, comment on pictures of hosted events, and view pictures of The Secret Sauce being used at barbecues across the nation.
As The Secret Sauce Barbecue Company continues to make an impact on Kansas City barbecue, they embrace every contest victory and milestone achieved. By offering a tastier and healthier way to do barbecue, The Secret Sauce offers a long-awaited change of pace to Kansas City barbecue.
###