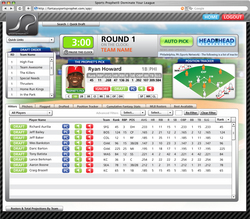 Orlando, Florida (PRWEB) March 12, 2008
With only three weeks left before Major League Baseball's opening day, Sports Prophet® LLC today announced the official launch of its 2008 fantasy baseball draft assistance and roster management software product for fantasy baseball teams. This entirely web based product is the most technologically advanced fantasy sports draft assistance tool available.
"We are very pleased to have added fantasy baseball team software to our product offerings. The exceptional product design and ease-of-use of the application has exceeded expectations," said Ari Wirtschafter, President of Sports Prophet . "It is a testament to the unrelenting dedication and drive of our team that we find ourselves today offering the premier software tool in the fantasy sports market."
Fantasy Sports Software Technology
At the core of the fantasy sports software is the proprietary technology. This technology employs a unique blend of artificial intelligence, predictive analytics and data mining techniques to provide fantasy baseball enthusiasts with player rankings and projections at a level of accuracy previously unattainable. With this software being released in advance of the start of the season, fantasy sports gamers will have the advantages of setting up all particulars of their team
The new fantasy sports software offers enhanced features and functionality as well as 24/7 on-line chat support. Enhancements include expanded player cards with detailed game by game performance analysis, advanced filters and a new trade analysis algorithm. With a patent-pending, Sports Prophet's software has again distinguished itself as the most advanced and sophisticated product in the market.
About Sports Prophet

Founded in 2006, Sports Prophet is an Orlando based technology company specializing in draft and full season roster management for the fantasy sports market. For more information about Sports Prophet, and to experience an online demonstration, visit Fantasy Sports Prophet
###