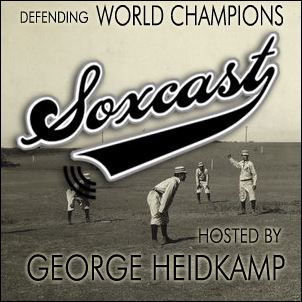 Chicago, IL (PRWEB) February 9, 2006
The Chicago Sportscast Network (CSN), a hub for on-demand sports talk for every major Chicago team, proudly announces the launch of Soxcast.com, a free, year-round podcast on the Chicago White Sox. With the White Sox making a variety of moves this offseason since winning their first World Series since 1918 last year, now is the time to log on to Soxcast.com for broadcasts available online or for direct download to personal mp3 players.
Soxcast.com covers this great franchise in a truly fresh way with a grassroots, conversational feel. Hosted by Sox fan George Heidkamp live from the Notre Dame campus, this interactive, fan-based show features commentary, debates, interviews, contests, and a listener call-in line. Unlike radio and TV broadcasts that leave you guessing when to tune in for Sox talk, Soxcast delivers intelligent, captivating commentary multiple times a week, directly to you, and available any time for listening at your convenience. Like all CSN shows, Soxcast is a great way for fans around Chicago and around the world to keep up with their favorite team.
Soxcast host George Heidkamp has joined the hosts of Bearscast, Cubscast and Hawkscast as the newest part of the CSN family. In the days to come, CSN will also be announcing the launch of Bullscast. George and the entire CSN staff are pleased to welcome new listeners to Soxcast.com.
About Chicago Sportscast Network
The Chicago Sportscast Network (CSN) provides on-demand, high-quality sports talk of your favorite local teams, totally free of charge. You choose when you want to listen, and what you want to listen to…all conveniently on your iPod, mp3 player, or from any internet-capable computer. Visit http://chicagosportscasts.com today and get connected to a fresh perspective from die-hard Cubs, White Sox, Bears, Bulls, and Blackhawks fans just like yourself.
About Soxcast
Soxcast.com is a free, high-quality podcast providing the freshest news and commentary for White Sox fans across the globe. Anywhere in the world, anytime of the day, log on to our website, Soxcast.com, and catch the latest hot stove issues that concern you and your defending World Champion Chicago White Sox. Soxcast is brand-new twice a week, on Mondays and Fridays, with mp3-quality broadcasts downloadable for the iPod and a host of other portable audio devices – you can also listen in right from your computer. Its the next best thing to being at Comiskey…yeah, thats right, we said it. Comiskey.
Official Title: Soxcast – Chicago White Sox Podcast
Website: http://soxcast.com


Feed, Podcast, RSS, XML File: http://feeds.feedburner.com/soxcast


Category: Sports
For More Information Contact:
Andrew Figgins, Co-Founder
Chicago Sportscast Network
(773) 263-1503
http://www.chicagosportscasts.com/
February 2006 is Podcast Month at PRWeb. This press release distributed by PRWeb, the Online Visibility Company.
# # #
Find More Chicago White Sox Press Releases