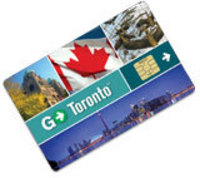 Toronto, ON (PRWEB) July 2, 2008
Smart Destinations introduces the new Go Toronto Card. The Go Toronto Card enables visitors to enjoy the best attractions and tours in Toronto, Niagara Falls and surrounding areas for one low per-day price, which saves vacationers time and money on their Toronto sightseeing visit. With the Go Toronto Card, users can enjoy as many Toronto attractions and tours as they want on each day. And with nearly 20 attractions from which to choose, the Go Toronto Card has something for everyone – whether you're traveling with family, an art and culture enthusiast, or an adventure seeker.
"The Go Toronto Card is a great weapon in the arsenal of any savvy traveler looking to get a true taste of this fabulous city without breaking the bank," said Cecilia Dahl, co-founder and president of Smart Destinations. "Canada remains an attractive destination for Americans since the exchange rate is still favorable. The Go Toronto Card provides a further boost in savings, helping people recession-proof their summer travels."
The Go Toronto Card gives travelers unlimited access to participating attractions for a fixed number of calendar days (1, 2 and 3). Much like a theme park pass directed at an entire destination, the Go Toronto Card enables users to set their own maximum savings by visiting as many attractions as they want to during the days that the pass is valid. The more attractions visited, the higher the savings. The average customer saves 30% or more on attraction visits.
The Go Toronto Card comes with a free full-color Toronto guidebook that offers up to 20% additional discounts on shopping and dining.
For a true taste of Toronto, the Go Toronto Card includes a Hop on Hop Off City Tour with Gray Line, a great way to familiarize yourself with this stunning destination; a Harbor cruise with Mariposa Cruises; Rogers Centre Tour Experience (Home of the Toronto Blue Jays); and Sights on Bikes/Toronto Bike Tours for a different and exciting exploration of the city. There are a series of attractions and sights that are unique to Toronto's rich history and culture, and cannot be experienced anywhere else in the world, such as the Bata Shoe Museum; Gardiner Museum; Textile Museum of Canada; Steam Whistle Brewing – Brewery Tour; Distillery District Walking Tour; Toronto Hippo Tours; half-day Bike Rentals at Segway of Ontario/Distillery District and Natrel Rink at Harbourfront Centre. To complement the Toronto Experience, the Go Toronto Card also features attractions in nearby Niagara Falls. Attractions there include Bird Kingdom; Nightmares Fear Factory; Fallsview Indoor Waterpark; IMAX Niagara and Skylon Tower. Additional attractions beyond Toronto include Reptilia and Treetop Trekking.
Introductory pricing for the Go Toronto Card (valid through July 31) starts at USD $ 64.99 for adults and $ 49.99 for children. For more information, visit www.gotorontocard.com.
About Smart Destinations

Smart Destinations is the premier provider of unlimited admission attraction passes in major U.S. travel destinations. For more information on program participation, the company and its cards, visit www.GoCardUSA.com.
CONTACT:

Cecilia Dahl

Smart Destinations

617-671-1009

cecilia @ smartdestinations.com
# # #