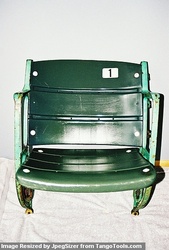 Marshall, MI (Vocus) July 9, 2009
Now you can own a piece of Minnesota Twins history with the eBay auction of a stadium chair formerly owned by the late Herb Carneal, known as "the voice of the Minnesota Twins." The chair is from the "Old Met," the Metropolitan Stadium that was home to the Twins until 1982.
The stadium chair, Carneal's personal game chair that was the first seat in the third row, was given to Carneal before the Old Met was torn down, in recognition of his 45 years of broadcasting with the ballclub.
The stadium seat comes with a letter of authenticity from its former owner Jim Nelson, who became a good friend of Carneal after being hired as his tree trimmer and groundskeeper. Carneal gave Nelson the chair in 1999 as a gift, telling him that it might become a collectible someday.
The stadium chair truly is a relic of baseball history. When Carneal died in April 2007, the team dedicated their season to him, wearing patches on their sleeve in his honor. He was a member of the Twins Halls of Fame, the broadcaster's section of the Baseball Hall of Fame and the Metrodome Press Box was named in his honor.
Nelson has given the chair to long-time EBay seller Tony Vitaliano, whose eBay seller ID is RitaD1. The nine-day auction can be found at http://cgi.ebay.com/ws/eBayISAPI.dll?ViewItem&item=180379739511.
Media Contact:

Jennifer Wezensky

JW Public Relations

269.274.4071
# # #
Find More Minnesota Twins Press Releases