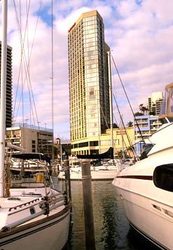 Miami, FL (PRWEB) February 11, 2010
There will be plenty of free family fun on the field when Florida Marlin fans gather for the 2010 Marlins FanFest on Saturday, Feb. 13 at Miami's Sun Life Stadium. Hosted in part by the Marriott's Miami Biscayne Bay Hotel, the event runs from noon until 6 p.m., and provides young and old fans alike the opportunity to meet and greet baseball players and purchase 2010 single game tickets for some of the Marlins' biggest contests including Opening Day and key opponents.
The Marriott's Port of Miami hotel, realizes the significant impact fans have in the ongoing support of professional athletics and likewise the important role model professional athletes provide young fans, and proudly supports the 2010 caravan event. In addition to purchasing tickets, those attending the event will find a variety of activities including autograph sessions and photos with the players and an opportunity to meet Billy the Marlin, the Marlins Mermaids and the Marlin Manatees. There'll also be interactive fun for all ages including Bounce Houses for the kids, full size batting cages, a rock climbing wall, Little Slugger's Zone, Big League Speed Pitch and an arcade.
A special baseball card and memorabilia exhibit will be on display, along with live music and entertainment and the Florida Marlins Community Foundation Garage Sale. Fans will also be able to sign up for the 2010 Marlins Fan Club and Billy's Bunch Kids Club.
Beginning at noon at Club Level fans will be able to participate in Town Hall Meetings with Marlins players, coaches and executives and ask questions concerning the ball club and team. There will also be tours of the state of the art stadium Club Level which includes a variety of amenities, suites and group hospitality areas.
The Marriott's bayside hotel in Miami has joined forces with Jiffy Lube and TD Bank in giving fans the opportunity to participate in an event of this magnitude. Parking gates open at 11 a.m. and there will be a $ 5 charge for parking which can be used as a credit toward the purchase of tickets during FanFest. All other funds will be donated to the Florida Marlins Community Foundation. Vehicles with four or more persons will be admitted free of charge.
The Marriott's Biscayne Bay hotel in downtown Miami is located at the intersection of the Downtown and Miami Arts District and offers spectacular waterfront views and luxury amenities.
###