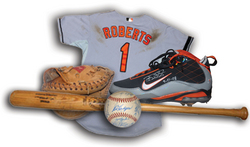 Baltimore, MD (PRWEB) October 30, 2008
The Ironclad Legends Auction II, the second in a new series of high-end vintage memorabilia themed online auctions by Ironclad Auctions which commenced October 24th and concludes November 13th, is featurung Baltimore Orioles All-Star Brian Roberts' game-used and signed jersey, cleats, batting gloves and helmet from his, and Yankee Stadium's, historic "Last Player at Bat". Brian and Ironclad will be donating proceeds from the sales of these items to the development of important programs at the University of Maryland Hospital for Children. Ironclad Legends Auction II also includes a 1943 original George H. Ruth signed NBC contract and other historic memorabilia from greats Mickey Mantle, Don Mattingly, Lou Gehrig, and Cal Ripken Jr. and other sports legends.
The original Ironclad Legends Auction, which debuted July 12th, celebrated some of the greatest legends in professional sports. The auction showcased for the first time the Vincent Greco Collection – the largest and most historic find of Baltimore Orioles game used gloves, team signed baseballs and lineup cards ever to date. The collection featured Brooks Robinson, Jim Palmer, Boog Powell and other legends of the game.
Once again The Legends Auction II features rare items from the Greco Collection. This second offering showcases game used gloves from Baseball Hall of Famer and Oriole great Eddie Murray, as well as fellow Oriole greats Rick Dempsey and Tippy Martinez.
"It was a great honor and experience to play in the final game at historic Yankee Stadium, not to mention get the last at bat," said Orioles All-Star second baseman Brian Roberts. "It is even more rewarding to be in a position to donate, and auction through Ironclad, my game used signed items from that final game, with all the proceeds benefiting the University of Maryland Hospital for Children in Baltimore."
"Brian Roberts is one of the premier second baseman in all of baseball," said Ray Schulte, Ironclad Co-Founder. "Brian made history playing in the last game, and getting the last at bat, in historic Yankee Stadium. We are excited and honored to be part of his commitment and on-going support for the University of Maryland Hospital for Children."
When asked about how the current economic climate may affect the auction as well as sports collectible industry in general, Mr. Schulte had this response.
"Memorabilia collectors throughout the country are concerned with the current state of the economy, but aren't panicking because they feel their vintage collectibles have retained their value and should continue to appreciate even in our recessionary times. Current and former athletes' signature products very seldom fluctuate compared to the stock market and real estate investments of today. Here are the top three reasons why to invest in vintage sports collectibles: 1) Collecting can start with minimal expense until you get acclimated with what personally interest you; 2) The Vintage memorabilia market value will not shift radically; items retain their value even in and through recessed economic times; and 3) You have tangible assets in hand which it easier to liquidate if needed"
About Ironclad Auctions
Launched in April, 2008, Ironclad Auctions, the auction arm of parent Ironclad Authentics LLC, is one of the fastest growing and most successful online auctions platforms in memorabilia, providing collectors with the opportunity to bid on rarities and collectibles from sports and entertainment.
An affiliate of Ripken Baseball Inc., headed by Baltimore Orioles baseball legend Cal Ripken Jr., Ironclad Authentics began operations in 2004 and offers signed, fully authenticated, memorabilia from current and former athletes. Ironclad holds the exclusive signature rights to both Cal Ripken Jr., inducted into the Baseball Hall of Fame in 2008, and former New York Yankee superstar Don "Hitman" Mattingly. They are also an official licensee of Major League Baseball (MLB) and a partner in their elite memorabilia authentication program.
For more information on the Auction or Ironclad visit www.IroncladAuctions.com, www.IroncladAuthentics.com, or contact: Norwin Prasad at (410) 823-0808.
###