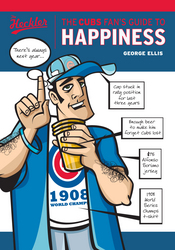 Chicago, IL (PRWEB) November 15, 2007
The Cubs Fan's Guide To Happiness is a revolutionary new book written by George Ellis, co-founder and managing editor of The Heckler, a satirical Chicago sports publication. The Guide is filled with principles every Cubs fan lives by–and if these people can be happy, anyone can. It's the perfect holiday gift for any sports fan or marginally depressed individual.
Chapters include:


There's Always Next Year
Beer Will Make It Better!™
Everybody Needs a Scapegoat (or Even Just a Goat)
It's Not Over Until You're Mathematically Eliminated
Loyaltiness is Next to Godliness
At Least You're Not a Sox Fan
The Power of Low Expectations
15 Habits of Highly Happy Cubs Fans
100 Years, 100 Frustrations
*Plus special sections, practical applications and more!
This book is for people tired of getting their life advice from talk show hosts, web sites or doctors pushing little blue pills. It's for people who want concrete, simple answers. Most importantly, it's not just for Cubs fans. It's for anyone who faces adversity.
In the words of the author: "I didn't write this book just for Cubs fans. I wrote it for anybody that has ever had their dreams trampled."
The Guide comes highly recommended by celebrities and sports personalities alike:
"As a fan of The Heckler, I expected no less from this book. It's the Italian beef of optimism sprinkled with the hot peppers of pessimism. There's always next year! Yeah…right." -Celebrity Cubs fan Joe Mantegna
"This book is one of the funniest I have ever read. George Ellis has given the vast, shambling Cubs Nation reason to live. Other than beer." -Chicago Sun-Times columnist Rick Telander
"Loveable but unrealistic, ignores the truth and every chapter is a reminder that, no matter how good things look on paper, something bad can always happen…and usually does." -TV and radio personality Bob Sirott
"Helps explain how it is that Cubs fans remains fiercely loyal while somewhat maintaining their sanity. And in true Heckler form, George Ellis kids because he loves. I think." -Cubs TV broadcaster Len Kasper
Published by Triumph Books, a sports imprint of Random House. For more information, to receive a review copy or to watch a White Sox fan try to read it, please visit CubsGuide.com.
About The Author:
George Ellis is co-founder and managing editor of The Heckler. He has also written several screenplays, and works at Leo Burnett as a copywriter, creating ads for companies like Allstate, PetSmart and McDonald's.
Contact:
George Ellis

Author – The Cubs Fan's Guide To Happiness

310-403-1649

CubsGuide.com
###
Related Chicago Cubs Press Releases