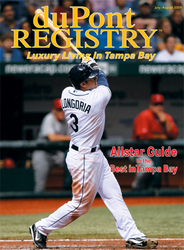 Saint Petersburg, FL (PRWEB) July 13, 2009
With the Tampa Bay Rays American League Champions Star Player on its front cover, duPont REGISTRYTM Luxury Living in Tampa Bay names its picks for the 2009 Annual ALLSTAR Guide to the Best in Tampa Bay. A commemorative cover featuring the familiar outline of Evan Longoria at bat makes this issue an absolute collector's item for Rays' Fans.
The duPont REGISTRYTM has promoted living the good life since it opened it's doors in Tampa Bay in 1985.
Read by the world elite and those who have a real appreciation for the best things life can offer, the duPont REGISTRYTM, it's employees, friends, and editorial contributors have chosen their favorites to be THE BEST IN TAMPA BAY with a twist from the great American past time of baseball. "The Tampa Bay Rays have really delivered to their fans, this is our way of saying way to go, now let's get in the spirit and do it again!", said publisher, Thomas L. duPont.
The lineup reads like an awards ceremony naming each chosen business with themed honors like: "Lead Off Hitter", "Pinch Hitter", and "League Champion."
Readers looking for the best place to have Sunday brunch, take in a ballroom dance lesson, or find the best place to buy gourmet truffle oil, can find them in this issue of the duPont REGISTRYTM Luxury Living inTampa Bay.
Of course no issue would be complete without the regular spotlight of life around Tampa Bay. A real who's-who at the most "where to be seen" events in our area. Readers can browse for familiar faces and places in the charity and party pages from the recent weeks.
Issue on newsstands everywhere. For single copies: 727-573-9339.
Established in 1985, the duPont REGISTRY publishes it's Buyers Gallery of Fine Automobiles 12x Annually, Buyers Gallery of Fine Homes 12x Annually, A Buyers Gallery of Fine Boats 6x Annually, and duPont REGISTRY Tampa Bay 6x Annually. The publications website, duPontREGISTRY.com, is one of the most visited luxury portals on the net with nearly 400,000 unique visitors per month.
###