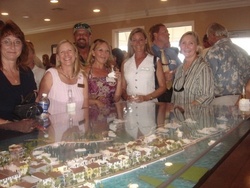 Marathon, FL (PRWEB) September 21, 2007
The sunset view at Marlin Bay Yacht Club was the talk of the town and according to Marathon Chamber members, Marlin Bay Yacht Club is the new luxury hot spot for Florida Keys real estate.
In celebration of its construction progress, more than 200 chamber members and guests gathered to welcome the addition of Marlin Bay Yacht Club — the Florida Keys' newest luxury residential and marina community — to Marathon.
"We appreciate the praise and enthusiasm from the City of Marathon and its chamber members," said Thad Rutherford, Marlin Bay Yacht Club project manager. "The development team and I look forward to the completion of Phase One before the end of this year (2007) as well as hosting future community events."
At the event, chamber members were guided through personal tours of the site, viewing the private marina's nearly completed inner basin, clubhouse, ship's store and model home — introducing each guest to the upcoming new style of inspired marina living.
"Marlin Bay Yacht Club's chamber event was one of the highest attended events in the Chamber of Marathon's history," said Stacie Kidwell, Marathon Chamber President. "We look forward to welcoming Marlin Bay Yacht Club to our community and meeting the new residents of this first class development."
Situated on eight tropical acres in Marathon, FL, Marlin Bay Yacht Club is a $ 220 million luxury waterfront community with amenities such as a private, hosted marina, full time dock master, 7,600-square-foot clubhouse with business and fitness centers, heated beach entry pool, ship's store and pool pavilion. Prices range from $ 1.6 million to $ 4 million for homes up to 6,432 total square feet in size that boast award-winning architectural detail, roof top terraces with panoramic views, two-car garages, designer amenities and finishes with the maximum weather protection envisioned by South Florida's strict building code.
The developer, Sandler at Greater Marathon Bay, is a real estate investment and land development company with over 20 years of demonstrated success in the marketplace and over 110 projects completed, near completion or underway to date.
For more information about Marlin Bay Yacht Club, please visit: www.marlinbay-keys.com or call 877-878-2762.
###