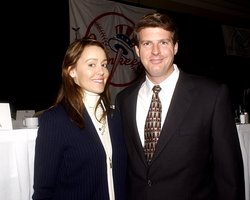 Tampa, FL (PRWEB) March 21, 2008
The New York Yankees helped raise a record $ 280,000 for the Boys & Girls Club of Tampa Bay on March 19 at the Tampa Marriott Waterside Hotel. The event included speeches from event organizer Hal Steinbrenner and Yankees Manager Joe Girardi. Also in attendance were George Steinbrenner and his daughter Jennifer, Christina Steinbrenner, and the entire Yankees organization.
The lead sponsor for the event was The Christopher D. Smithers Foundation, and the Ferman Motor Car Company was the Lunch Sponsor. A silent auction of Yankees items was held, while Yankees players past and present signed autographs.
The mission of the Boys & Girls Clubs of Tampa Bay is to enable all young people, especially those who need us the most, to reach their full potential as productive, caring, responsible citizens.
# # #
Related New York Yankees Press Releases