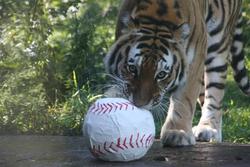 Apple Valley, Minn (PRWEB) September 2, 2010
Diana Weinhardt supervises the Minnesota Zoo's Northern Trail and its two popular tiger exhibits. Now, Diana has a new tiger in her life – her son Robbie Weinhardt, a pitcher for the Detroit Tigers. Robbie, 24, was recently called up to the majors from the Tigers minor league team, the Toledo Mud hens, and will be suited up as the Tigers play the Minnesota Twins tonight (September 2) at Target Field. Robbie made a trip out to the Minnesota Zoo this morning for a visit with his Mom at the Zoo's Tiger Lair exhibit. In honor of Robbie's visit, the Zoo's tigers received a special baseball-themed treat.
For Diana, the tigers at the Minnesota Zoo are symbolic. The Zoo houses two tigers from the Detroit Zoo, called the "Detroit Boys."
Getting the chance to possibly see her own "Detroit Boy" pitch in Minnesota is an exciting moment for Diana. "I'm a proud Mom," notes Diana. "He has worked hard for his moment, but I have to admit, it's very nerve racking at times."
Zoos and baseball have been part of the Weinhardt family for many years. Diana grew up in Chicago wanting to work in zoos and learning baseball from her dad. Robbie grew up in zoos, going to work with his mom and playing baseball, and wanting to play professional baseball. This is a journey that has a mother-son both doing a job they've dreamed of as kids. And it works. Robbie goes to zoos on his days off and Diana goes to baseball games on her days off. This zoo-baseball path has covered many miles, zoos and baseball fields. While Diana worked in Alaska for a couple of years, Robbie played summer baseball there. When Diana was hired for the Minnesota Zoo's Russia's Grizzly Coast exhibit in 2007, Robbie played in the Northwoods League.
Robbie's baseball career has a Minnesota connection. He pitched for the St. Cloud River Bats of the Northwoods League (an NCAA sanctioned college summer league) during their 2007 championship season.
The Minnesota Zoo is located in Apple Valley, just minutes south of Mall of America. For more information, call 952.431.9500 or visit mnzoo.org. The Minnesota Zoo is an accredited member of the Association of Zoos and Aquariums (AZA) and an institutional member of the World Association of Zoos and Aquariums (WAZA).
###
Related Detroit Tigers Press Releases